Restorative Dentistry Can Repair Your Smile
Dental implants are titanium posts surgically placed in the jaw to replace missing tooth roots. The implants will provide a highly stable and durable base for a crown, bridge, or entire denture. If necessary, we can perform bone grafting and sinus lift surgery to make it possible for the upper and lower jaws to accommodate implants. We use safe, effective anesthesia and offer sedation options to make your procedure as comfortable as possible.
Learn More About Dental Implants
A dental crown fits over a tooth following treatment for damage or advanced decay. Crowns provide support, restore function, and look like your natural teeth. To place a crown, your dentist will carefully reshape your tooth to accommodate the restoration. The dentist will take impressions of your tooth, and lab technicians will use this information to create your custom crown. We provide natural-looking all-porcelain crowns, as well as zirconia crowns that look natural and provide superior durability.
Learn More About Dental Crowns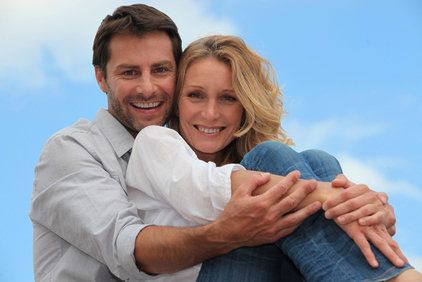 A dental bridge is designed to replace several consecutive missing teeth, giving you a functional bite and natural-looking smile. Bridges comprise several crowns fused together to form a single unit. Like single crowns, they are made of highly lifelike material, and they are specially designed to match the shape and color of your natural teeth. Bridges may be held in place by adjacent dental crowns or dental implants.
Learn More About Dental Bridges
Dentures are full-arch restorations that can replace all of your upper and lower teeth. Our dentures are extremely lifelike, and are custom designed to provide you with a comfortable fit. Traditional dentures rest on the gums, held in place with a combination of suction and a mild adhesive. We also provide implant-supported dentures for the ultimate stability. If you already have traditional dentures, we can convert them into implant-supported restorations.
Learn More About Dentures
Dental Fillings
Fillings are used to restore your tooth following cavity treatment. At Alpha Dental Center, we only use tooth-colored composite fillings. Once all decay has been removed, your dentist will place a color-matched filling to restore the structure and shape of your tooth. Unlike silver amalgam fillings, these fillings provide a natural appearance. We can also replace your metal filling with composite resin.
If you have widespread dental damage or a significant number of missing teeth, you may be a good candidate for full mouth reconstruction. A full mouth reconstruction combines multiple procedures into one treatment plan. Our expert team will work closely with you to select the right procedures for your goals. We provide panoramic and digital x-rays for the most accurate imaging and treatment possible.
Learn More About Full Mouth Reconstruction